My apologies for putting the song New Kid in Town by the Eagles in your head…
If any of you are not aware, there is a blog feature called "He Blogs, She Blogs" currently being run by Petra @ The Wise (*Young*) Mommy, and Captain Dumbass @ Us and Them where people submit questions and they both give their unique take on the questions independently. Well, they have put their collective talents together and have combined forces to take that feature to the next level.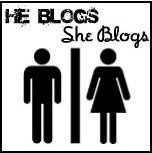 Both Petra and the Captain are talented writers who write with wit and humor. If you ever want to know how the other half thinks… this is a good blog to follow. Since they are just starting out, they need material to post with. Be sure to visit He Blogs, She Blogs and send them your questions.